About Alpha BioSystems
Sustainable, All-Natural Microbial Blends for a Healthier Farm, Industrial Environment, and Home
For over twenty years, Alpha BioSystems has brought innovative microbial technology to a variety of fields including agricultural, retail, and industrial. Alpha Biosystems is a company that manufactures all-natural proprietary microbial products for vegetation, lawns, gardens, ponds, farms, commercial agriculture operations, pets, and industrial use.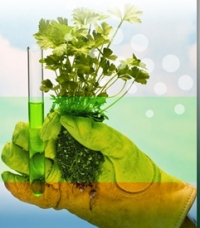 We take a personal interest in helping our customers lead a more sustainable lifestyle when they adopt and use our non-toxic, unique blend of microbes and beneficial bacteria (stuff that's already found in nature). Rest assured you are doing something good for the environment and yourself.
Alpha BioSystems started by building and manufacturing a limited line of products in the early days. Primarily, there were three products Safe-One for dairy lagoons, Aqua-One for pond clarification and Terra-One for turf applications. From these humble beginnings the company expanded its R&D efforts to manufacture a breath of products all designed solve unique challenges.
About Alpha AG Solutions
Alpha Ag Solutions is a division of Alpha BioSystems focused on helping livestock and agriculture operations featuring Terra-One™ and Compost-One™.
Terra-One Overview
Crops depend on water. Soil organic matter levels commonly increase as average annual precipitation increases. Elevated levels of soil moisture result in greater biomass production, which provides more residues, and thus more potential nutrients. Terra-One HYC (High Yield Crop Inputs) is a proprietary all-natural microbial soil enhancement with a mycorrhrizal additive developed by Alpha AG Solutions to help you increase your results and reduce your costs. The Terra-One concentrate is a three-part mixture of bacteria, activator and the carrier (water or a liquid fertilizer) mixed onsite by the end user.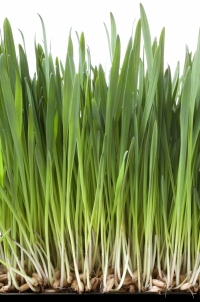 Alpha Ag Solution products have been thoroughly tested and used in a wide range of soil types, to determine the efficacy of each product. The goal was to take a basic set of licensed formulas and improve them into a dynamic line of soil amendment products to increase grass and crop production yields.
The evaluation process was accomplished through an extensive research of available microbial technologies and manufacturing techniques. The research conducted in Alpha BioSystem's (ABS) laboratories and test plots charted a path to develop product improvements and ingredients to the original licensed formulas. During the evaluations, the scientific conclusion is Terra-One's current concentrated formula creates the changes necessary to produce the desired results in a single crop cycle.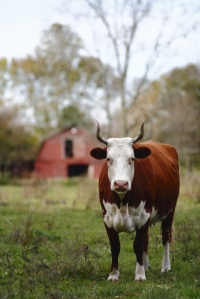 In addition to making the product more concentrated, another key improvement to the licensed formulations was the addition of Mycorrhizal Fungi to the mixture of beneficial bacteria. To our knowledge this was an industry first. ABS worked with Dr. Mike Amaranthus PHD, who has 30 years in the field of study of this fungus and is considered the leading authority. Terra-One product is certified by the Myco-Apply program that verifies Fungi content as represented on the label.
By utilizing the concentrates and the new manufacturing process, ABS can now ensure freshness of the product by building batches based upon product demand. Midwest Laboratories in Omaha, NE is utilized to validate the testing and efficacy of the product.
About Alpha Commercial Solutions
Alpha BioSystems really started in the commercial oil sector by bringing to life the idea that microbes could be used for remediation. The product to solve these remediation challenges is MicroClean-One which is less expensive than other remediation methods which attacks the root cause of the problem not just masking the symptom.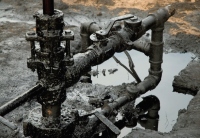 Bioremediation turns harmful hydrocarbons into natural by-products, essentially cleaning up the mess while you sit back and watch. It reduces the amount of site closure you require, as well as allows for ex-situ land farming, or in-situ remediation. It doesn't generate anything hazardous, and minimizes or even eliminates long-term ownership of liability.
MicroClean-One works by producing enzymes that transform hydrocarbons into natural by-products (amino acids, water and small amounts of carbon dioxide). During the transformation process, the enzyme isn't eliminated, but rather speeds up the reaction rate. One enzyme can affect changes in as many as 1 million hydrocarbon molecules per minute. The MicroClean-One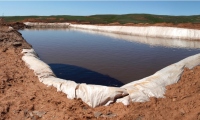 blend contains strains of bacteria which primary digest the hydrocarbon, while secondary microbial strains digest the resulting waste. Now that's what we call effective. Once the transformation is complete, so is your clean up. The by-products can exist in the environment without you lifting another finger. That's because MicroClean-One is non-hazardous, non-toxic and non-carcinogenic, does not violate air emission standards, and does not require any special handling or storage permits.
Alpha Thrive Solutions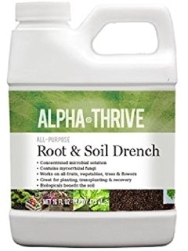 Alpha BioSystems also found that consumers could benefit from beneficial microbe technology at their home, in their pond, and with their pets. The products where distributed nationwide at lawn and garden centers and specialty stores. Truly this concept was ahead of the consumer curve as the shift in global thinking continues to tackle the challenges of being a more sustainable planet. A large variety of solutions where taken to market and used by consumers across the country.
Alpha Thrive Root & Soil Drench
Alpha Thrive uses propriety, concentrated blend of microbes and mycorrhizal fungi to recondition the soil. Soil is a living eco-system and can be harmed by drought, chemicals, tilling and years of neglect. Maintaining soil quality and health is imperative. Alpha Thrive with its blend of living microbes and mychorrhizal fungi help put back into the soil what was lost.
Alpha Aqua-One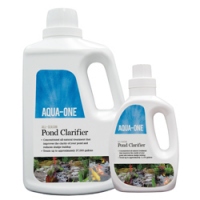 Simply put, Aqua-One works to prevent or eliminate the most common water quality problems associated with ponds and aquariums. Aqua-One All Season Pond Clarifier is a concentrated liquid and increases water clarity and decreases sludge buildup. This treatment contains beneficial bacteria that are safe for fish and other pond life and is likely the strongest, most complex beneficial bacterial product available.
There are many sources of nutrients that can cause problems such as fish waste, plant and lawn fertilizer, leaf litter, grass clippings, excess fish food, even the fish themselves give off ammonia. The microbes in Aqua-One utilize nitrogen and phosphorous as a food source. They also consume sludge or bio-mass from the pond. Aqua-One is blend of water, nutrient, and Alpha BioSystems proprietary blend of microbes which are safe, naturally occurring strains that are uniquely suited for their environment and application. Better yet Aqua-One is perfectly safe for fish, pets, wildlife and pond people. It is classified as a bio-level1 microbial product which means you should not drink it of course. Just drop it into the pond and let it go to work.